Garment Bagging Machine
Time Saving Bagging Machine for Laundries & Dry Cleaners
The Hiemac Bagmaster 570 manual bagging machine is a compact, professional bagging machine for bagging garments with presealed light weight polyethylene bags.Bagging garments is made easier and quicker as the patented 'sky hook' opens and spreads the plastic film as it is pulled down over the garment.With a quick downward snap, the plastic is separated at the hook, leaving the next bag open and ready for the next garment.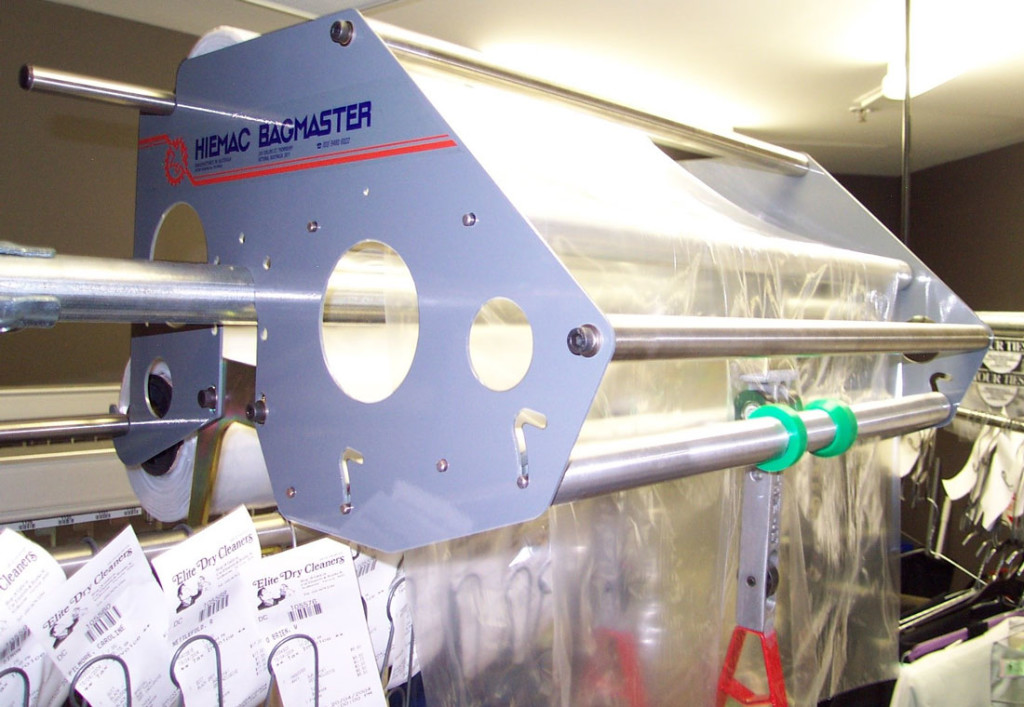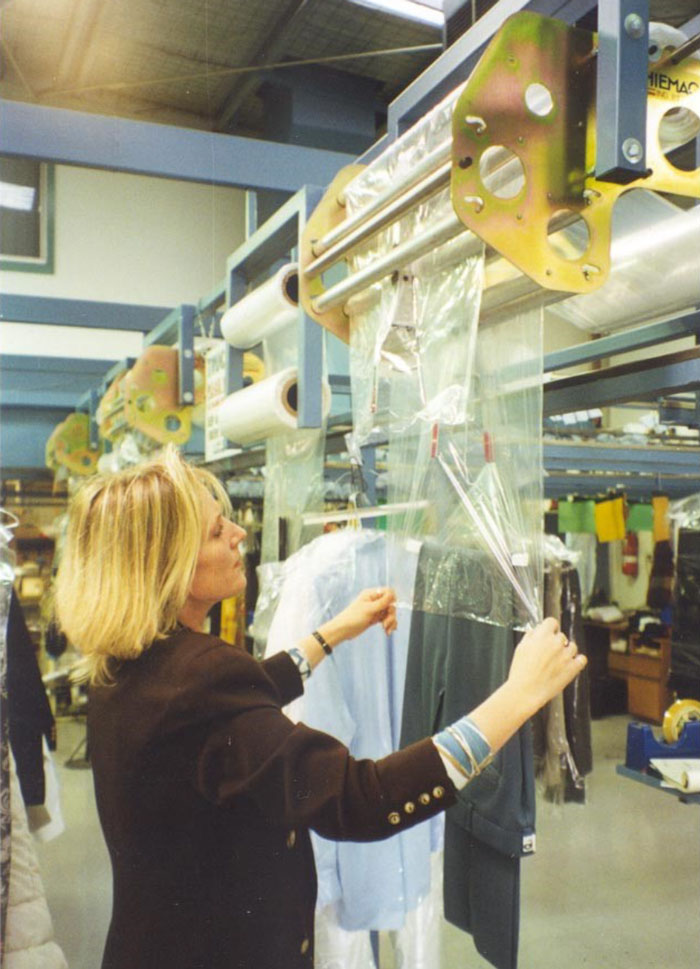 The spreading forks on the 'sky hook' keep the bag open and ensure easy movement of the bag over the garment.
The Hiemac Bagmaster manual bagging Machine can be mounted on the slick rail allowing the garments to pass underneath, or floor mounted. We use a 'sky hook' and not a floor stand leaving the floor around completely uncluttered.
With most plastic films, after tearing at the serrated joint the next bag can be difficult to open. With the Bagmaster, the bag is opened and spread automatically as it is pulled down over the garment, allowing you to use the thinnest and cheapest films.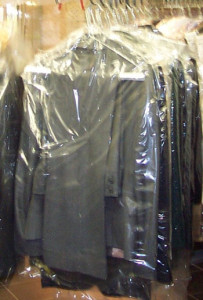 Bagging is very quick, up to 10 bags per minute with ease.
The Hiemac 'Bagmaster 570' does not require a floor stand to hold the hanger, and can be readily mounted on to your existing slick rail or wall with standard brackets supplied with the unit.
It is built to be maintenance free for its lifetime and is quick and easy to use.

While the Hiemac 'Bagmaster 570' is an enormous time-saving unit in itself, the biggest benefits come when it is used in conjunction with the Hiemac Slick Rail and Carousel as pictured on the right. Garments are placed on the Slick Rail where they can then be run through the Bagmaster and straight onto the automatic carousel for later computer-operated retrieval.
Multi Garment 'Bagmaster 750'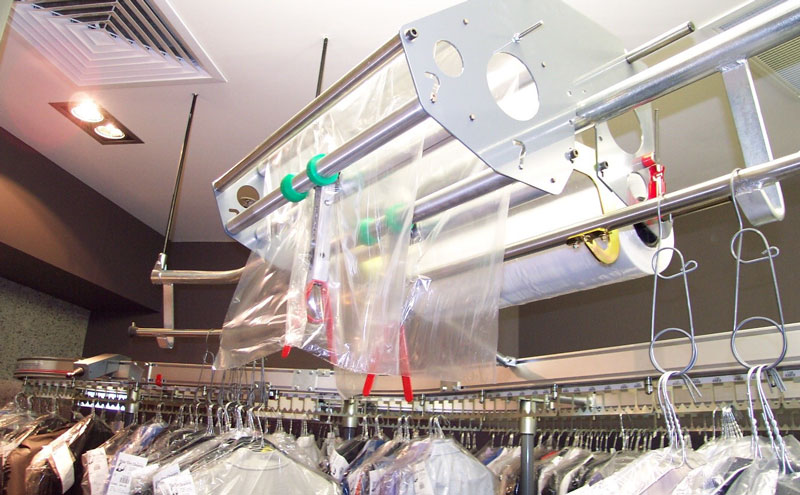 We also manufacture and stock the Multi garment 'Bagmaster 750' which is a double seal heavy duty bagging machine. It is free standing, can be mounted on lockable casters for moving from area to area, very durable and reliable and extremely quick and easy to use.
The machine can produce 300 bags per hour holding up to 12 garments per bag
Bags – 750mm wide x 50 microns thick.

The standard bagger is a double roll unit, holding two rolls of film and having two Sky Hooks, effectively giving two separate baggers in one. One bag can be longer or have different printing for special customers.

Patented 'Sky Hook' holds the garments, spreads and opens the plastic film.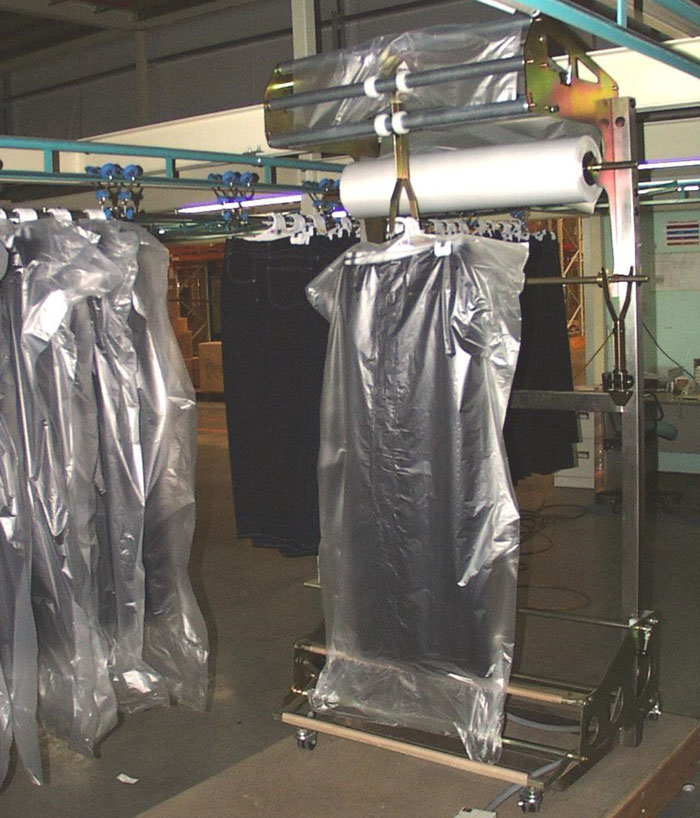 Multi Garment 'Bagmaster 750' Free standing heavy duty top and bottom seal bagger for bagging multiple garments in thick polythene bags. Mostly used for transporting garments interstate.
Bagger Specifications:
Garment Suspension – Single or Double 'Sky Hook', no floor stand required. Extra-long hooks for shorter operators (optional).
Plastic Film Opening – Bag is kept open by spreader bars on the Sky Hook.
Bagger Mounting – Can be mounted in any existing laundry or rail installation, no floor stand required.
Holding Capacity – Two rolls of polyethylene film 570mm wide x 91m long, 200mm diameter, 12kg each roll.
Plastic Film – 570mm wide x 10.5 microns thick, presealed and perforated at predetermined bag length to customer requirements.
Productivity – 10 Bags per minute, or 1 garment per 6 seconds.