Garment Elevators, Conveyors & Mezzanine Floors
Garment Conveyors and Mezzanines
Maximise Space and Efficiency in your Fashion Warehouse
Lift, drop & move laden skids automatically throughout your warehouse.
Auto feed in & auto feed out.
Decrease labour time to process garments.
Efficient, quiet and maintenance free operation.
Connects directly to your existing materials handling system.
Occupies NO floor space.
Climbing speeds of up to 1 vertical metre every 3 seconds.
Up to 7 metres per elevator.
[/col-6]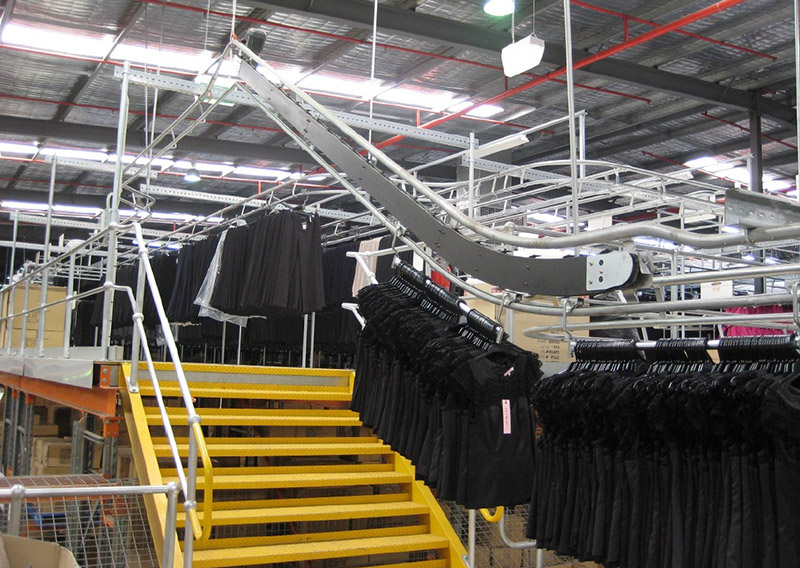 An operator pushes garment laden skids into a gravity feed system, the skids will automatically feed into the elevator and automatically gravity feed them out of the elevator to a receiving rail.
[/row]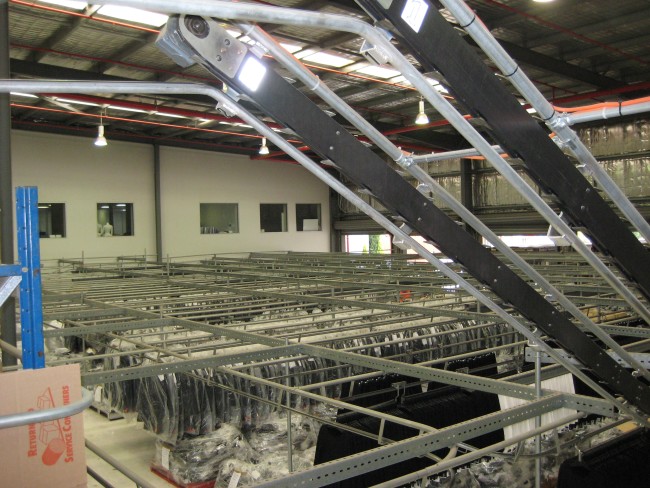 Side by side elevators – one elevator lifts garment laden skids, the other lowers these skids, safely and quietly.
Hiemac's Elevators
lift or drop garment laden skids from one floor level to another automatically. There is little operator involvement (reducing labour required to handle receiving and dispatch shipments) the elevator is hung from the ceiling so the floor underneath the conveyor is available, and each skid is lifted within 10 seconds to the next floor (note lifting time may vary).
Hiemac's Conveyor
moves garment laden skids throughout your warehouse; using the gravity feed in and out system, these skids are automatically transported from point to point. Our conveyors are capable of moving garment laden skids over great distances (there is no limit to the chain length); there is a full range of bends, inclines and declines so we can design any configuration to suit your existing layout.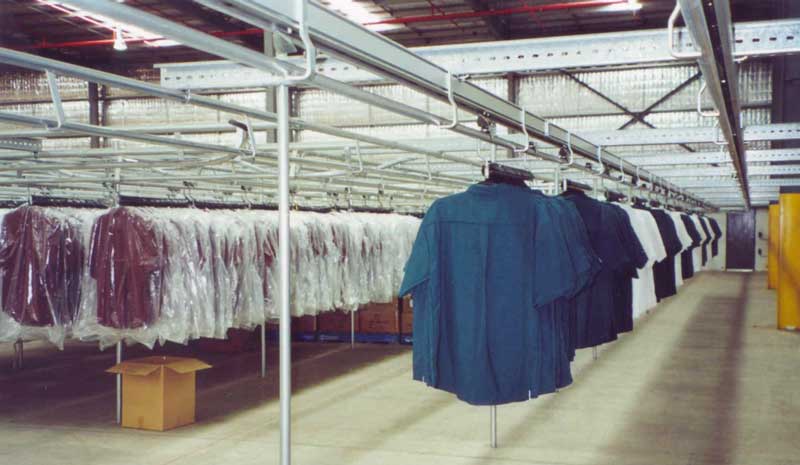 Computer controlled or automated chain conveyors can transport and deliver garments to various stations around the warehouse automatically, without operator assistance.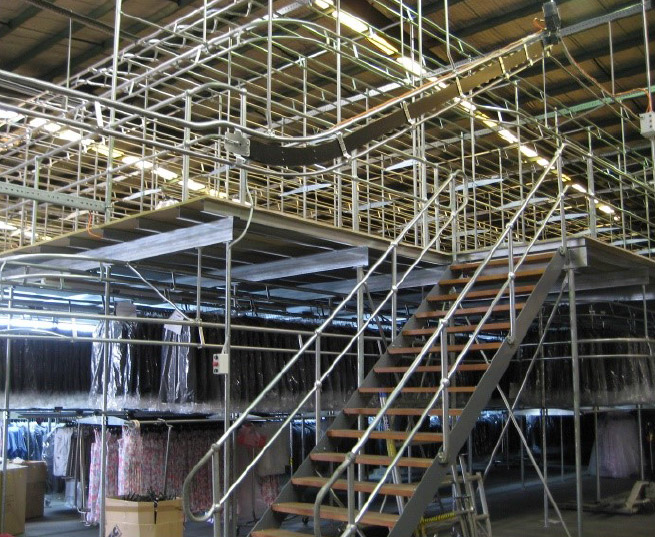 Hiemac's Mezzanine Floors – utilise your vertical space and maximise your garment storage capacity. Our floor structure doubles as Rack & Rail supports to make the most of your space.
Shared stair case – garments are transported automatically up and down between floors; in the unlikely event that a garment or skid should fall from an elevator the stairs prevent any danger to people below.
Hiemac's Mezzanine Floors are purpose designed to maximise your warehouse garment storage capacity. The floor structure doubles as Rack & Rail supports, so every square meter of a Hiemac Mezzanine Floor is available for hung garment storage or skid transportation. Safety and strength are our highest priority, hence all of our floors are fully engineered to suit your load rating and we take every measure to comply with Australian Standards. Over the last 30 years Hiemac have built mezzanine floors of all shapes and sizes, from 3x3m platforms to floors that span the full width of a warehouse. Our Modular designed floors bolt and screw together; they can be erected fast with minimal disruption to your business.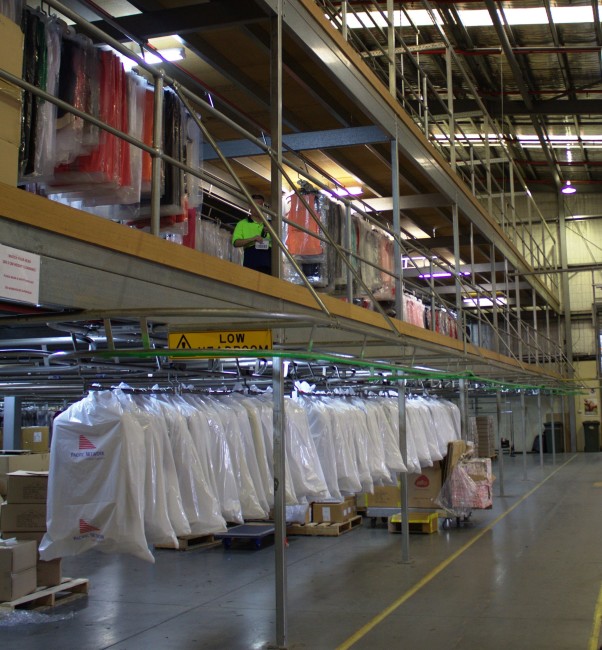 Hiemac's Multi Level Mezzanine Floor, each level is fitted extensively with Hiemac's Speed Rail system.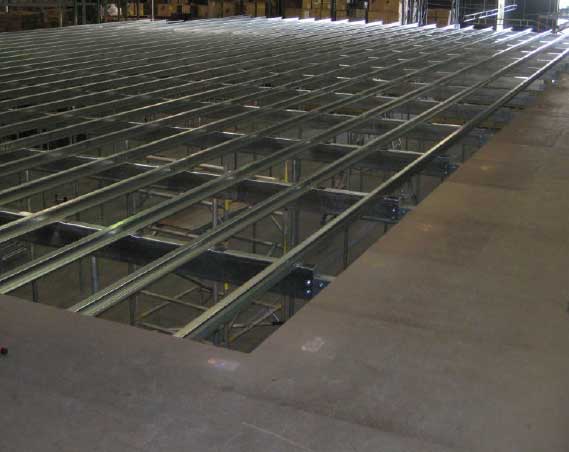 Our modular designed floors use high tensile steel. Meaning your floor will be strong and erected promptly.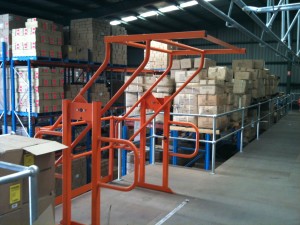 Pallet Gates: are used to safely load and remove pallets from Mezzanine Floors.
Our services include design, manufacture and installation of new single or multi level floors; extensions to existing floors and re-inforcing floors that are under engineered or required for a higher load rating. These floors can be built to include:
Load ratings suited to your requirements
Under floor fluorescent lighting
Multiple stair access
Safety/Pallet gates
Shelving for your storage requirements