Speed Rail Hung Garment Materials Handling
Speed Rail
Garment Handling Systems for Warehousing & Distribution
Move, process and store more garments with less operators and less effort.
Free up your floor space and increase your cubic storage capacity.
Introduce automation into your warehouse with the latest garment technology and modern efficient equipment.
Reduce the lifting and carrying of garments and cut out work cover claims.
Decrease the time to process garments and work with a happier and more productive staff.
Increase productivity and add real dollars to your bottom line.
[/col-6]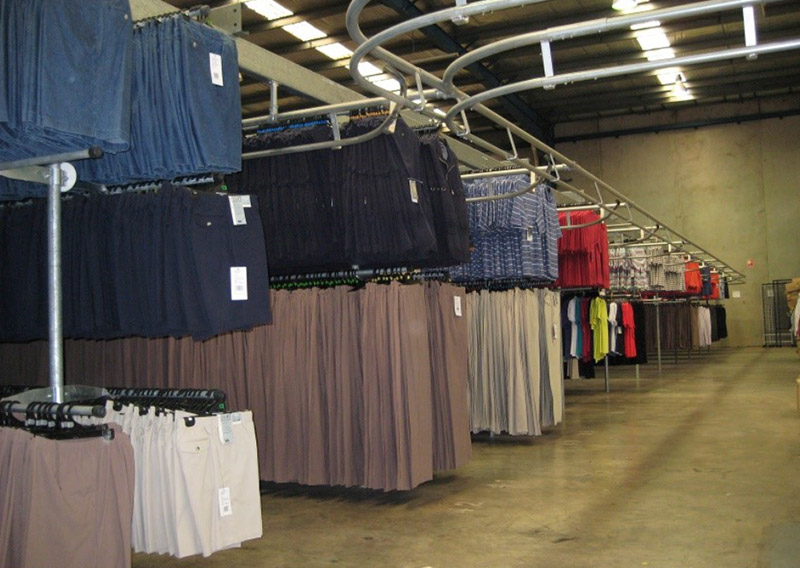 Warehouse clothes Racks integrated with the Speed Rail. Note the clear floor area
[/row]
The Hiemac Speed Rail System allows you to move garments quickly and freely throughout your warehouse with little fuss and less operators. With labor being the most expensive single cost to production today, if you want to stay on top you have to keep productivity at its highest level possible.
Automatic conveyors and elevators take your garments from level to level quickly and safely, giving years of dependable maintenance free service.
Hiemac can help you achieve your goals by streamlining your work flow, increasing your storage capacity, cutting production cost and at the same time improve operator working conditions.
We have an excellent computerised design and planning service driven by people who have been in the business for many years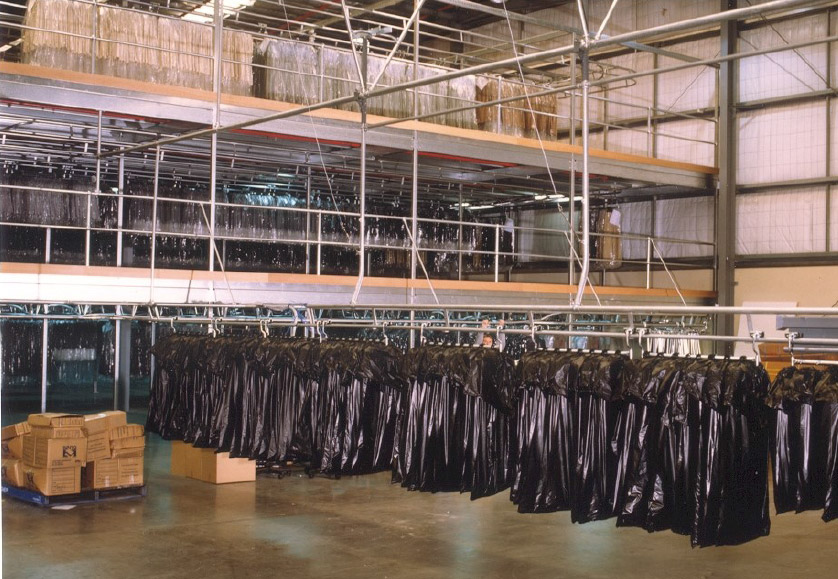 Multi level or single mezzanine floors with automated conveying up and down is the most economical way to increase floor space and cubic storage capacity.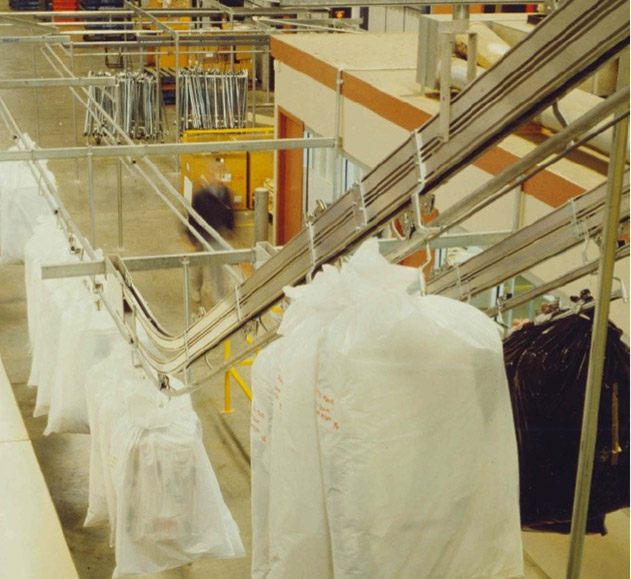 Automated elevators take garments up to various levels, quickly and safely.
The Hiemac Speed Rail system is a sturdy, chrome steel, modular construction. The standard components clip and screw together to form an over head rail system that is durable and maintenance free.
No welding is done on site and the rail can be easily pulled down and re-erected in another configuration or shifted to another building and put together in a completely different format.
Fully laded skids move around the warehouse with ease, our elevators, with their gravity run off rails don't require operators at the top or bottom until the rails are full.
Our rapid load system saves many hours at the loading docks.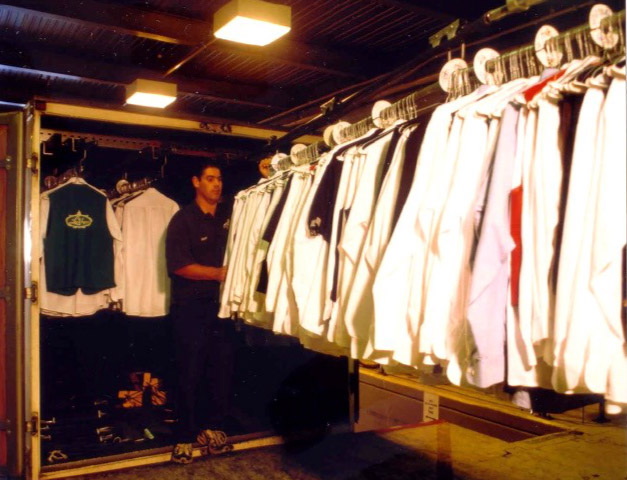 Hiemac Rapid Load for transporting hung apparel gives a full roll on roll off system. No lifting no carrying, 2000 garments can be unloaded in 10 minutes by one man.
A complete set of engineering and site drawings are prepared before any work commences to ensure the customer knows exactly what is going to be installed.
The steel work and components are prefabricated at the factory ensuring minimal site time and inconvenience to the customer.
Mezzanine floors with racking on both levels has been one of our many good products. The steel work required to construct the mezzanine doubles as the rack and rail support underneath, this reduces the overall steel content for the whole system considerably. With our automatic elevator system this makes for an economical method to increase your workable floor space.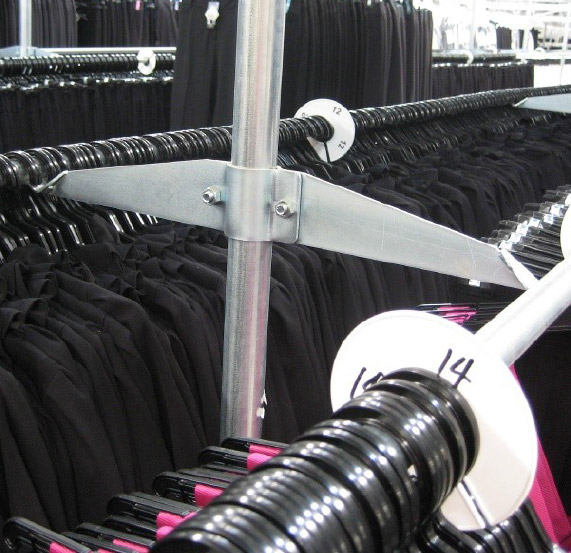 Dedicated hung apparel racking can be multi tiered, is fully adjustable and designed so garments can slide the full length of the installation. Avoiding lifting and carrying and making it easy for consolidation and re-organising.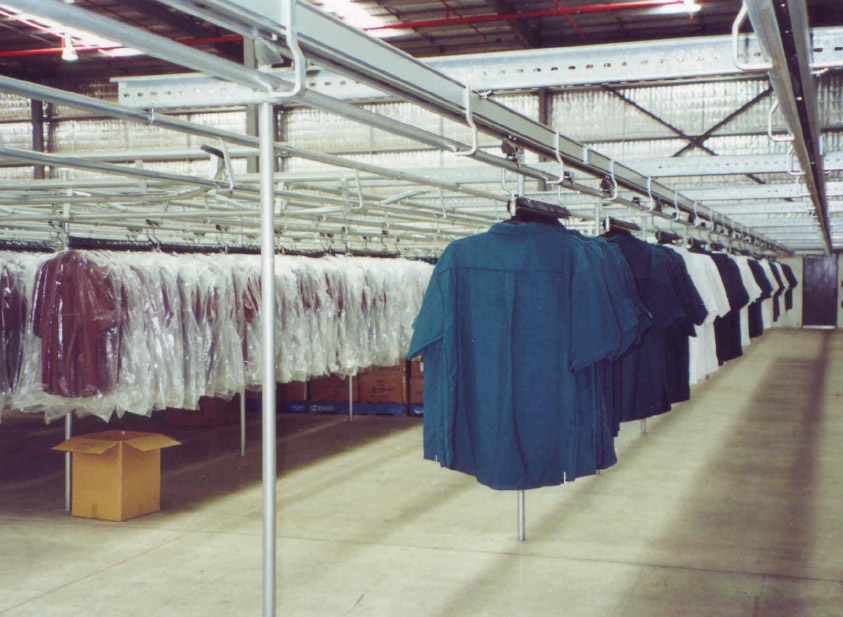 Computer controlled or automated chain conveyors can transport and deliver garments to various stations around the warehouse automatically, without operator assistance.
Speed Rail canvas carriers are ideal for carrying folded textiles or odd shaped goods. They fold up flat when not in use for easy transport back to base.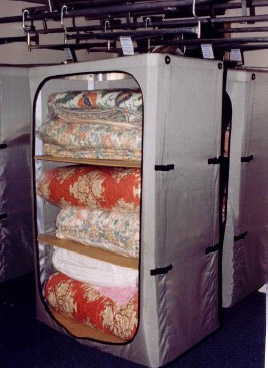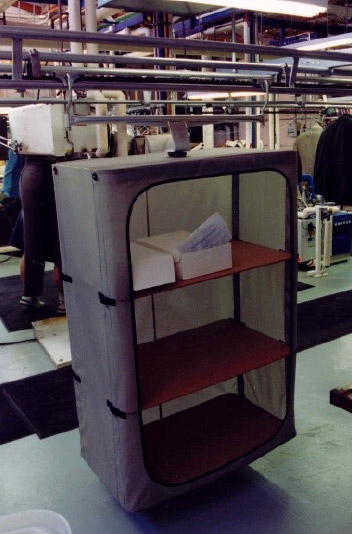 Auto Dispatch – barcoded trolleys laden with bags of garments are fed into the chain conveyor. The bar code is read as the trolleys move along the conveyor and their destinations logged into the PLC. The trolleys are then directed down one of the many dispatch rails automatically. They accumulate here until the rapid load truck picks them up and delivers them to the store.
The Hiemac Speed Rail system is the result of many years of development based on hands on experience and good planning.
Over 90% of all garments sold or processed in Australia is done on Hiemac Speed rail.
We have fitted out all the major chain stores through-out Australia with Speed Rail from the supplier to the warehouse to the retail stores.
Customers such as Myer, Target, Kmart, Grace Bros, Country Road, Fast Line, AQR, Break away and several major installations overseas.
Hiemac invented and developed the modular speed rail truss system, the rapid load system, the auto elevators and conveyors. We have been in the apparel handling business for 34 years and we know how to build a better system.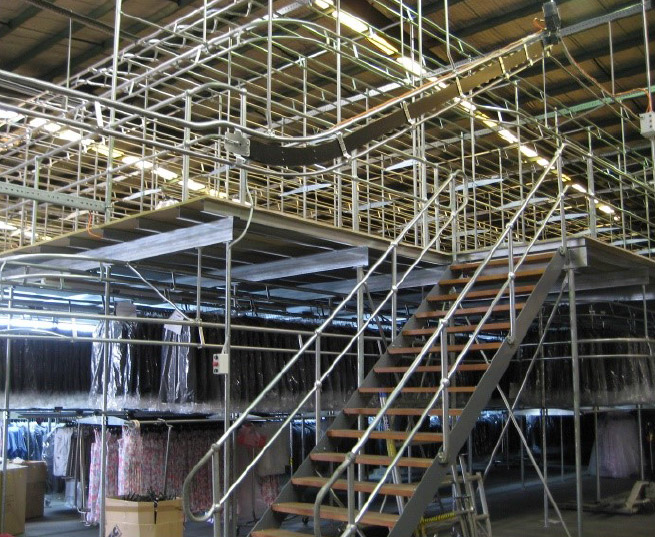 This 4 Kpa mezzanine floor has 2-tier dynamic and static storage at level one, with 3-tier dynamic storage on level two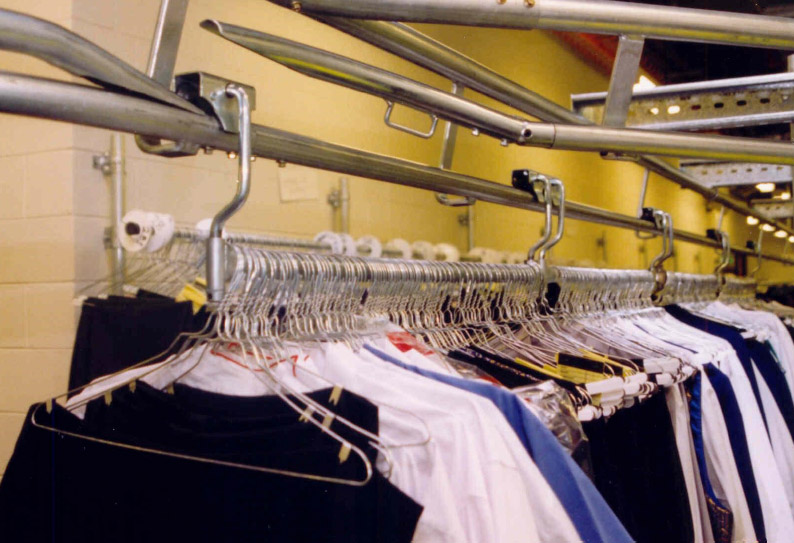 Each Speed rail trolley (skid) can hold 80-Kg of garments, they have 4-hardened steel wheels with 2-precision sealed for life ball bearings in each wheel. The switches (pictured) and skids will give many years of maintenance free service.